Not having a charger, losing the original charger, or the charger failing to charge the batteries are only some of the reasons you need one of our TET Universal Battery Charger kits.
Some simply don't want to carry around too many various types of chargers for different tools, then the solution is again this amazing versatile battery charger, which can charge Lithium ion batteries as well as Nickle Cadmium types ranging from 12 to 24 volts.
The input of this 82*58*18 mm TET Universal Battery Charger board can be hooked into any power supply from10 to 30 volts and can take up to 5 Amps of current. The higher the current the faster the charging time.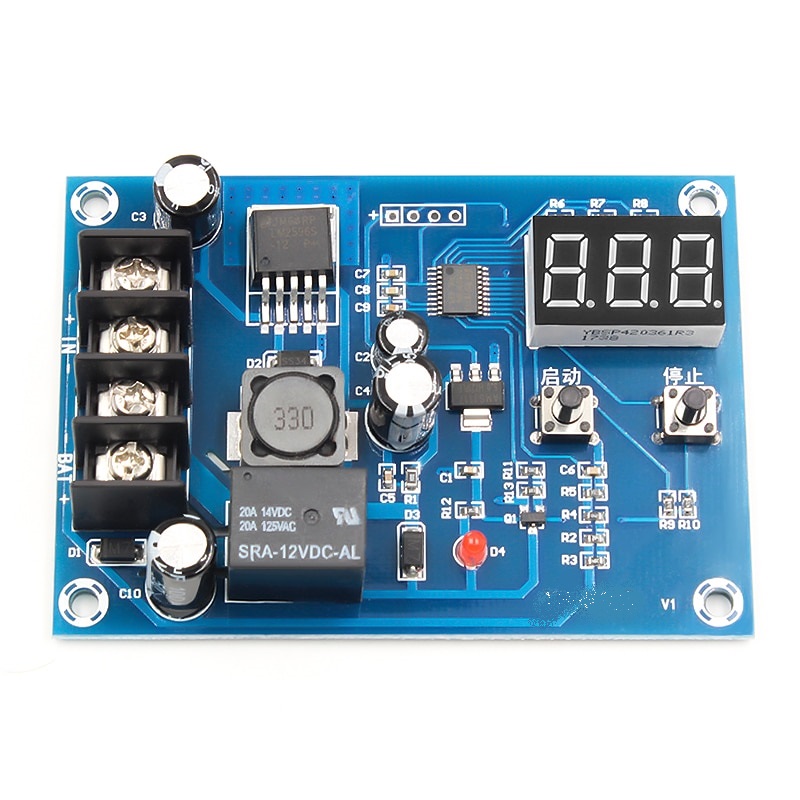 The application for this handy Universal Battery Charger is endless. It can charge anything from power tools to car or bike batteries and anything in between.
TET Universal Battery Charger can be easily set in three simple steps to any voltage to charge any battery as follows:
1. Set Starting Voltage: Press the left button and hold down for 3s, the digital display unit will flash, now use the start/stop buttons to set the starting up charge voltage value,
2. Set Stop Voltage: Press the right button and hold down for 3s, the digital display unit will flash, now use the start/stop buttons to set stopping charge voltage value,
3. Factory Reset: in the power-on state press the Start & Stop buttons at the same time, digital display unit will display 888, which represents factory reset settings.
Package Includes:
1* DC 12V-24V Lithium Battery Charge Control Protection Board with LED Display
Bear in mind the charging voltage you set should be about 1.2 times the rated voltage of the battery you're about to charge.
For example; to charge a 12 v 5Ah battery, the charging voltage should be set at around 14.4 volts and the current will be 5A.
If you have any issues or any questions regarding our TET Universal Battery Charger kit, please contact me via my website portal or email me directly at [email protected] , and I shall respond as soon as I can.
TET (Total Electrical Training) is proud to introduce this versatile battery charging kit, and with our ever growing number of happy customers, we delight to answer any of your aftersales concerning questions.  
Fereidoon